This page is about the android app,
myLTC,
which tracks buses for London, Ontario, Canada.
myLTC
is an excellent transit app for London. It's clear to read, easy to understand how to use. It shows maps and scheduled times. It also shows the current positions of the buses. Please scroll down for screenshots …
---
The Problem
About a year ago, the author upgraded the app to a version which crashed repeatedly. Then he disappeared, not answering any emails, pleas for help, offers of money, etc. This caused considerable frustration among users. His website is also off-line. Some glimmer of hope appeared when a new release showed up on Sept 4,2016, but this one is also followed by a litany of complaints about it not working.
There are some other options for LTC apps. Some show maps too ("London Transit LTC Live"), some are generic and for many cities ("OnTime", "Transit: Real-Time Transit App"). I haven't investigated these, but from reading the comments some of these crash and some use a lot of battery. The last one (Transit) seems excellent except for these flaws.
The Solution
I have a working copy from 2013 that I continue to use. It is version 3.0.1 (30001), Database v18 (whatever that means).  I paid for the upgraded copy so that the ads would be removed, but the ad-free version had even more problems and would freeze, etc. So I reverted to the free ad-based one.  [To get rid of ads, use the app  Ad-Away]
I am uploading it here for you to use if you wish. My phone is a Samsung Galaxy SIII. If your phone was around in 2013, there is a good chance that it will work too. If it is a more recent phone, then who knows.
---
The App
Routes: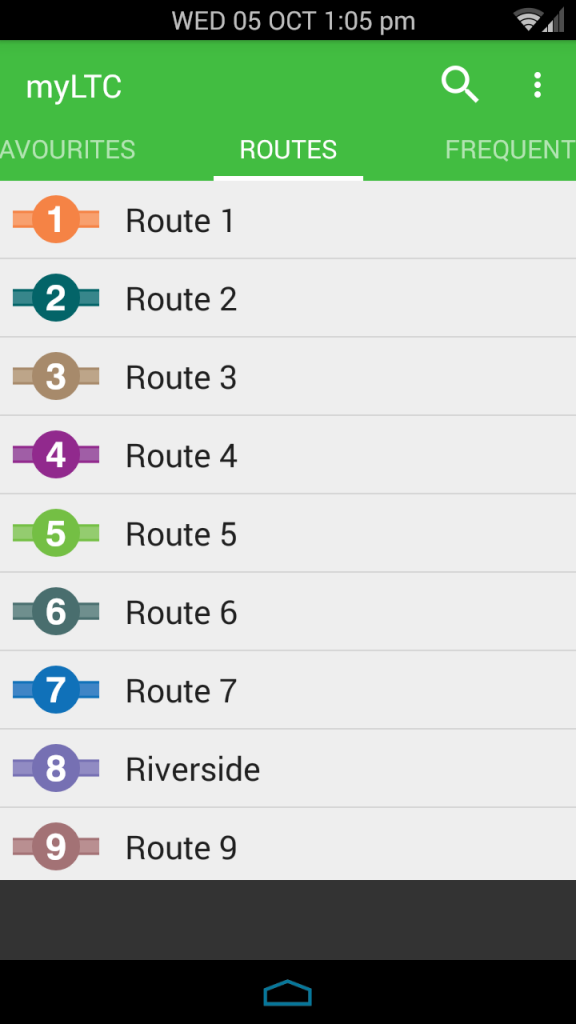 Note the nice route listing, coloured nicely too.
For some reason, all of the route names have disappeared. All that is left is the numbers.
There are a couple of routes with names (e.g #8 Riverside), but that's because these routes have been discontinued by LTC. It would be really nice to have names for all of the routes again.
---
Bus Stops for one route: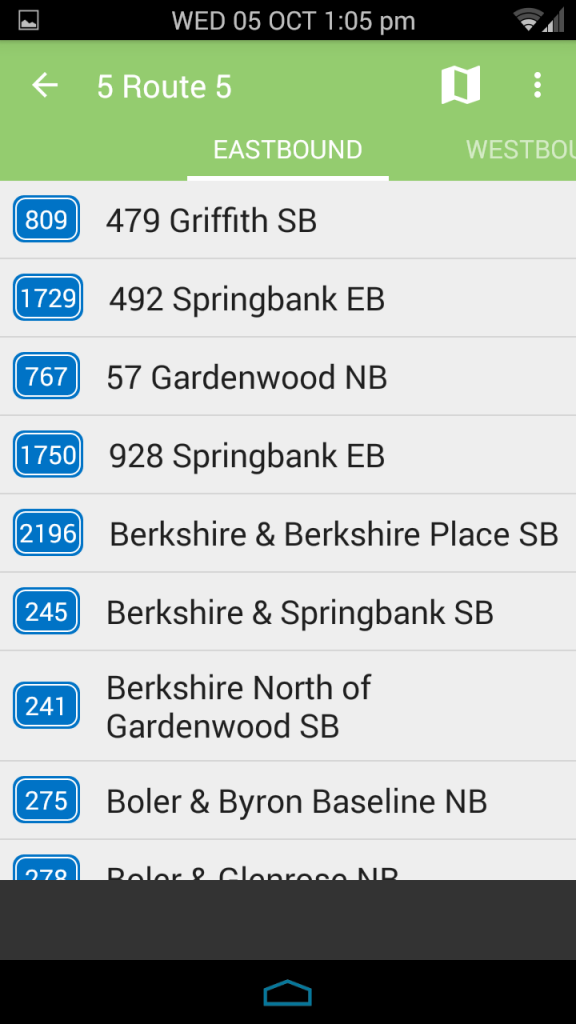 When you click on a route, it shows you the stops, for both directions (just click on EastBound or Westbound).
---
Schedule for buses at that stop: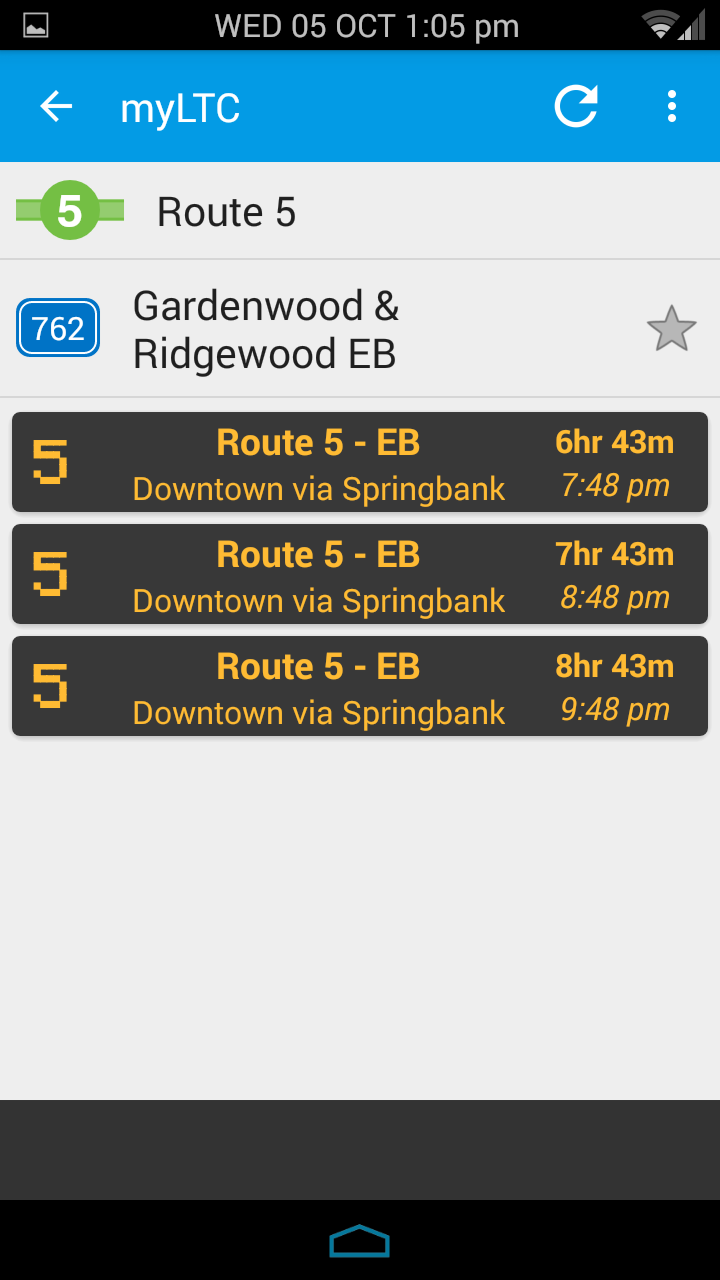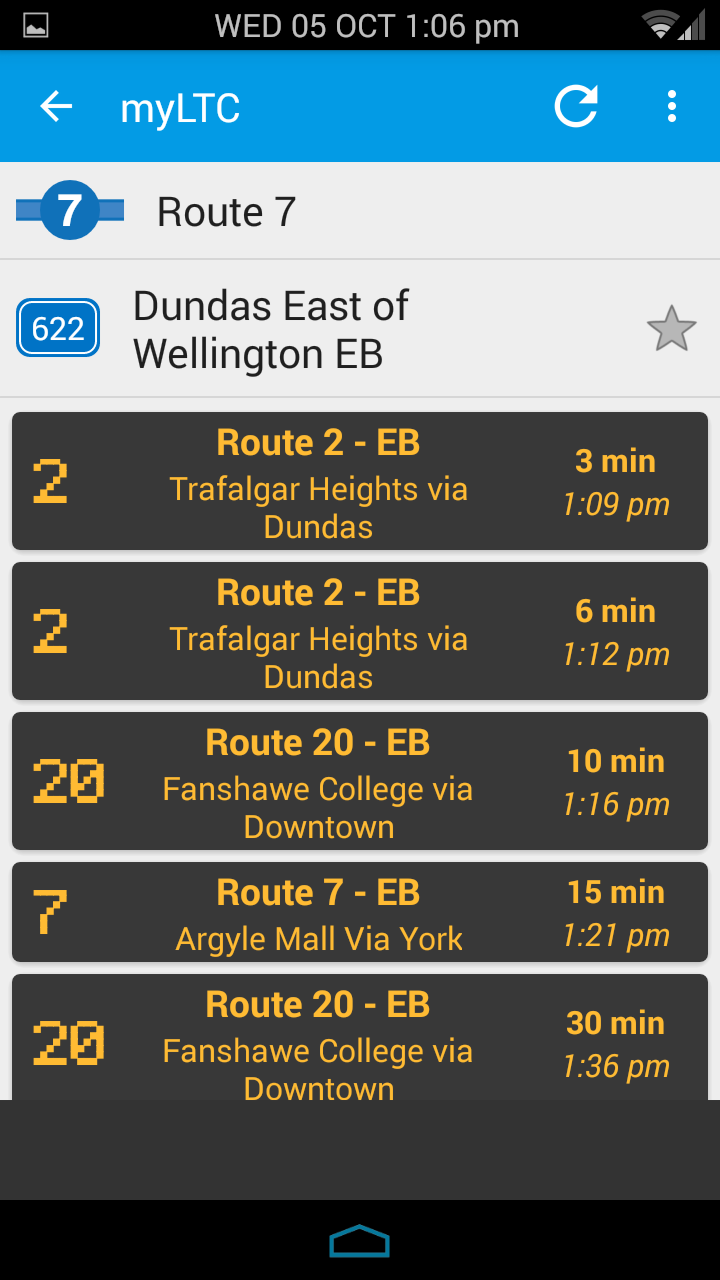 Click on a stop to see when the next buses are arriving at that stop. If there is more than one bus route there, all of the buses that stop will be shown.
---
Favourites: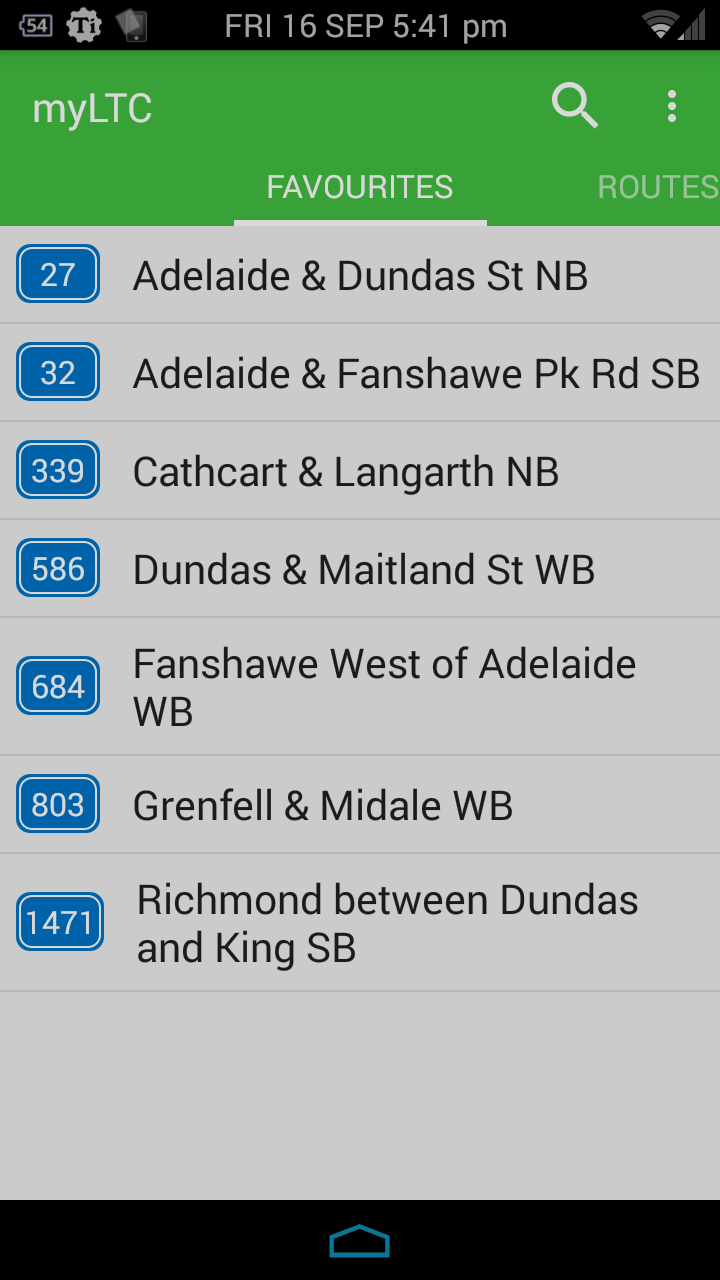 You can also have a list of favourite stops — a very handy feature.
---
Maps:
The maps are a great feature. First you see a zoomed out view showing the whole route with a few of the major stops. It also shows you where the buses are right now! If you zoom in, you see all of the stops.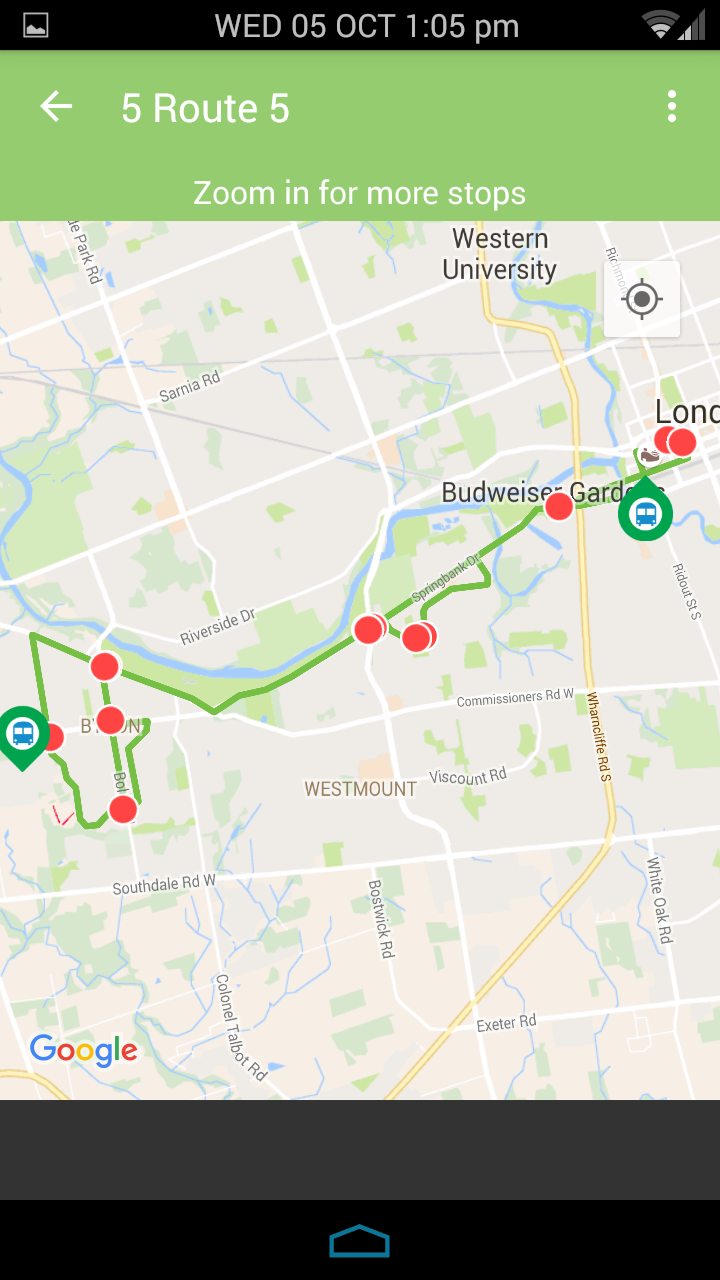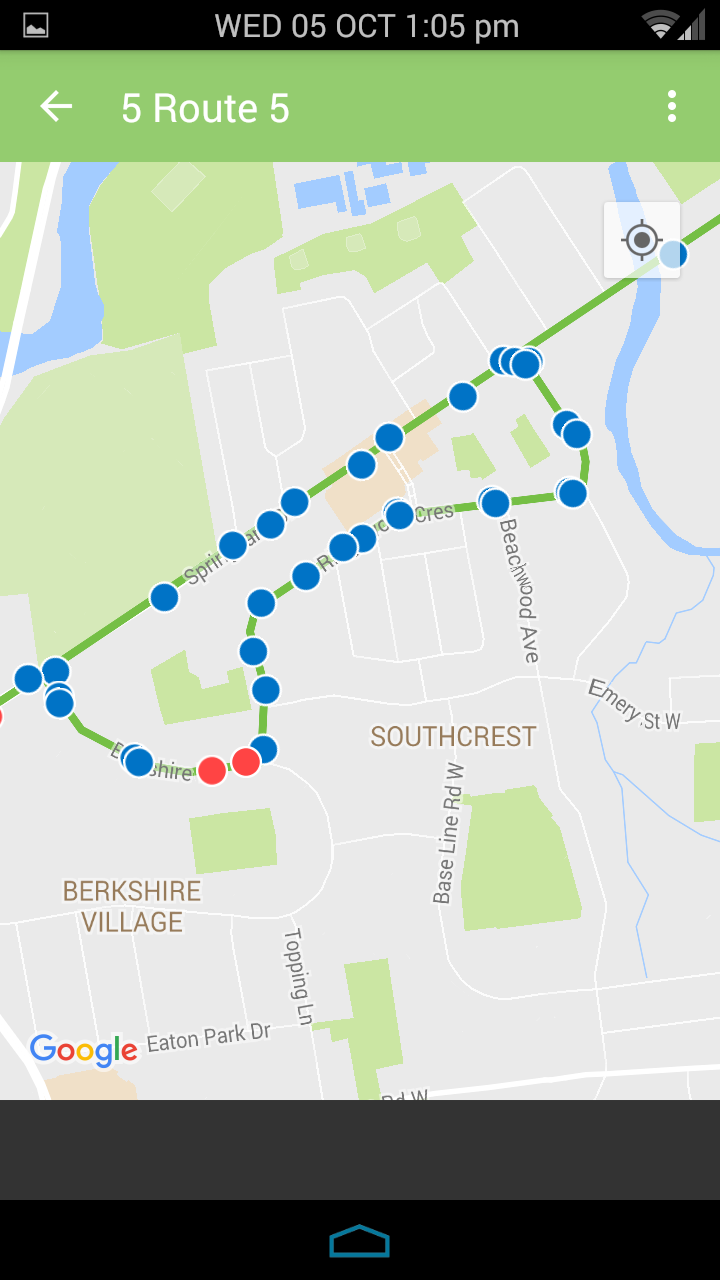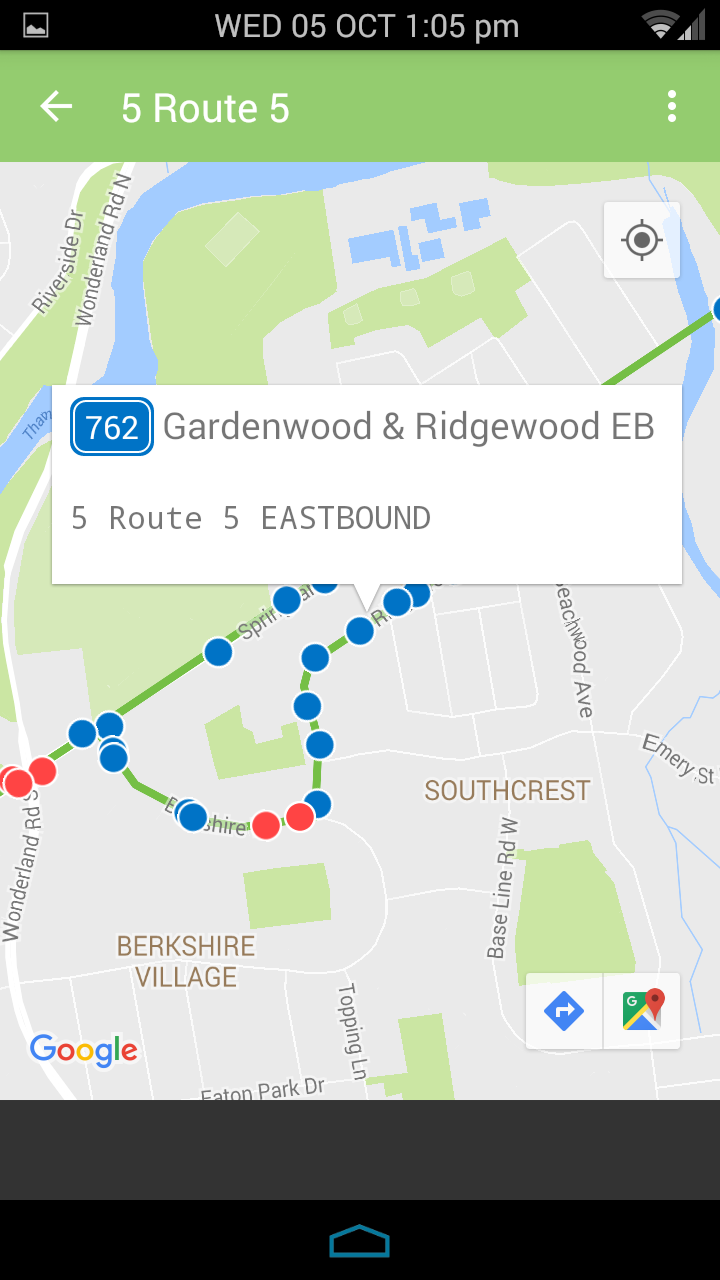 If you click on one of the stops, it will pop up the information for that stop and clicking again will take you to the detailed schedule showing when the next buses will arrive.